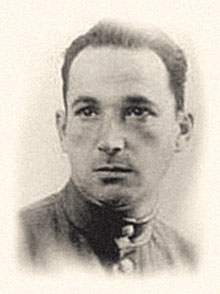 Alexander 'Sasha' Pechersky was born on 22 February 1909 in Kremenchuka, Russian Empire (today Ukraine) and died on 19 January 1990. He was one of the organizers, and the leader, of the most successful uprising and mass-escape of Jews from a Nazi extermination camp during World War II; which occurred at the Sobibor extermination camp on 14 October 1943.
On 22 June 1941, the day when Germany invaded the Soviet Union, Pechersky was conscripted into the Soviet Red Army with a rank of junior lieutenant. By September 1941, he was promoted to the rank of lieutenant quartermaster (class II). In October 1941, during the Battle of Moscow, their unit was surrounded and captured by the Germans in the city of Vyazma, Smolensk Oblast.
In May 1942, he escaped along with four other prisoners of war, but they were all recaptured the same day. He was then sent to a penal camp at Borisov, Belarus, and from there to a prisoner of war (POW) camp located in the forest next to the city of Minsk. During a mandatory medical examination, it was discovered that he was a Jew. After that he was thrown into a cellar called 'the Jewish grave' along with other Jewish prisoners of war, where for 10 days he sat in complete darkness, being fed 100 grams (3.5 oz) of wheat and a cup of water every second day.
On 20 August 1942, Pechersky was sent to a SS-operated Arbeitslager, a work camp, in Minsk. The camp housed 500 Jews from the Minsk Ghetto, as well as Jewish Soviet POWs; there were also between 200–300 Soviet inmates whom the Germans labeled as incorrigible: people who were suspected of contacting the Soviet partisans and those who were repeatedly truant while working for the Germans. The prisoners were starved and worked from dawn till dusk.
On 23 September 1943, Pechersky, along with 2,000 Jews from Minsk including about 100 Soviet Jewish POWs was transferred at the Sobibor extermination camp. There he became the leader and organizer of a prisoners' uprising.
According to Pechersky's plan, the prisoners would assassinate the German SS staff, leaving the auxiliary guards leaderless, obtain weapons and kill the remaining guards. However, not all the prisoners took part in the uprising. The plan was only partially successful as well – the rebels were able to kill 12 SS personnel, but they failed to obtain weaponry.
Immediately after the escape, in the forest, a group of only 50 of almost 550 prisoners followed Pechersky. After the imprisonment, Pechersky still considered himself as a Soviet soldier.  In 1944, after the injury, he received a disability.
After the war, Pechersky returned to Rostov-on-Don, where he lived before the war and started work as administrator in an operetta theatre. In 1948, during Stalin's persecution of Jews, known as the 'Rootless cosmopolitan' campaign targeting those who allegedly lacked true loyalty and commitment to Stalinism and the Soviet Union, Pechersky lost his job and was briefly arrested. He was quickly released because of international pressure.
Despite having lost his job because of repressions, he was awarded a medal 'For Battle Merit' in 1949.He had to sell handcrafted clothes on the local market for five years because he could not find a job. Only after Stalin's death in 1953 could he find a job, in the Rostselmash factory.Alexander Pechersky worked for a short time at a small cinema as a director.
In 1963, he appeared as a witness during the Soviet trial of eleven former Ukrainian guards at Sobibor, all of whom were convicted and ten of whom were executed. Alexander communicated actively with the participants of the revolt, journalists and historians.
Alexander Pechersky died on 19 January 1990 and was buried at the Northern cemetery in Rostov-on-Don, Russia.
President of the Union of Criminalists and Criminologists
Igor M. Matskevich
Translated by Elizaveta O. Ovchinnikova